This is the ultimate pocket tool for everyday use! Best Christmas Gift idea! This snowflake multitool is unique in its fidget spinners feature.
Features
Upgraded Version


Our snowflake multi-tool with fidget spinner function is useful for a wide variety of people, from workers to schoolchildren, including those with Stress Anxiety Disorder, ADHD or ADD. Playing this fidget spinner toy is an effective method of reducing stress at work. You'll get more than you expected from this 23 in 1 snowflake multitool.
23-in-1 Ultimate Convenience
This amazing "snowflake" consists of a total of 22 different tools, including the fidget spinner and regular Philips and flathead screwdriver, No. 3, 4, 5, 6, 8, 10 hex keys, and No. 4, 5, 6, 7, 8, 9, 10, 11, 12 wrenches, and square head 5*5mm, and No. 3.5 bike spoke wrench, even with a bottle opener etc.
For Outdoor
With its pocket-size design, it is perfect for outdoor sports, camping, adventure, and rescue. It provides many functions such as Phillips screwdriver, bottle opener, wire cutter, slotted screwdriver, and allen wrench.
For Home
When you need a wrench or screwdriver to fix something, such as a toy or roller skates, or install a computer or piece of furniture, this snowflake multi-tool stainless steel can come in handy. It can also function as a Christmas ornament when it gets closer to Christmas.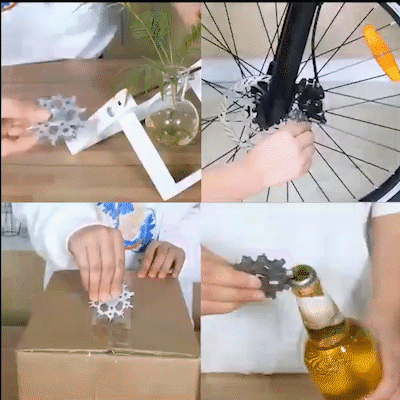 Innovative Design
Its pocket-sized design and finger spinners function make it a great toy that children can also play with their families.
Cool Gadgets for Men
Snowflake multi-tool makes great gifts for men who have everything. Including a bottle opener, wrench, screwdriver, and other useful tools, this pocket tool packs all functions in one. As stocking stuffers, the item is perfect for men, fathers, husbands, boyfriends, teenagers, and adults.
Specification
Material: Carbon steel
Size: 6.6*6.3xm
Package Include
1*23-in-1 Snowflake Multi-tool with Fidget Spinner