When work on nuts and bolts that are rusted or jammed, you can hardly remove it with an ordinary wrench. This heavy-duty Nut Splitter Tool is a huge time saver that will work on stubborn damaged nuts, bolts and screws! 
Features:
Professional Tool:Heavy duty nut splitter designed to split rusted or frozen nuts across flats. Parallel action of pusher cracks nuts on one side without damage to bolt threads.
Premium Quality:Made of high-quality carbon steel, antirust and antiseptic, hardened chisel edge, sharp cutting, long service life.
Easy Usage: Just rotate the nut splitter bolt to work on the target nut. Nut can be easily dismantled, saves a lot of time and energy. You may prepare a wrench help you to do this work.
Set with 4 PCs:4 different specifications of tool, 9-12mm, 21-16mm, 16-22mm and 22-27mm, enough for you to cope with all the problems you may encounter in your life. This set comes in a plastic carrying case for easy transport, simple storage, and quick organization.
Wide Application: Designed for professional auto mechanics and heavy duty applications.  Also ideal for the home/workshop/hobbyist etc. to split fixed or overtightened nuts.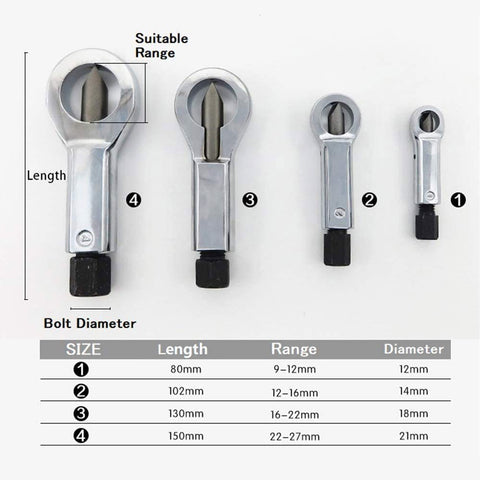 Specification:
Material: Carbon steel
Color: Silver + Black
Size: As shown in pic
Package includes: